I've naturally gotten some surprise that I am running with a presumed fracture/stress reaction by using a protective carbon fiber plate in my shoe.
My doctor recommended this, explaining that the hard-as-board carbon fiber protected the bone from ground impact, while the spring plate design assisted with toe-off to avoid pressure on the damaged area. He actually uses these instead of walking boots for all his stress fracture patients, and he's a foot and ankle specialist. He thinks they improve mobility and reduce atrophy of other musculature.
These are the insoles I ordered:
And they're available from
here
or
here
for about $75 each. Yeah. Not cheap. They are only available in full sizes, which was a problem, since I wear a men's 8.5. I measured my existing insoles, and ended up ordering the 9.
When I received the insoles, I was surprised that they were packaged with no padding, just in an envelope. But there wasn't much chance of breakage. They are ROCK hard. Rock hard. The hardest thing you ever felt. And not exactly "as light as a feather", either.
I removed my Kinvara insoles and placed the carbon fiber ones in - and that took me about half an hour. Here's the thing - these inserts are completely stiff, rock hard, no give at all. So I probably should have gone down half a size instead of up. I spent forever manipulating the shoe to get the plate in, and it's a very tight fit. Plus, the edges of the inserts are sharp, and I cut my fingers up! Once I finally got them in, I put my regular insoles in on top, and I was ready to go.
So, running in them... well, first off, let me address the Nike Vaporfly comments.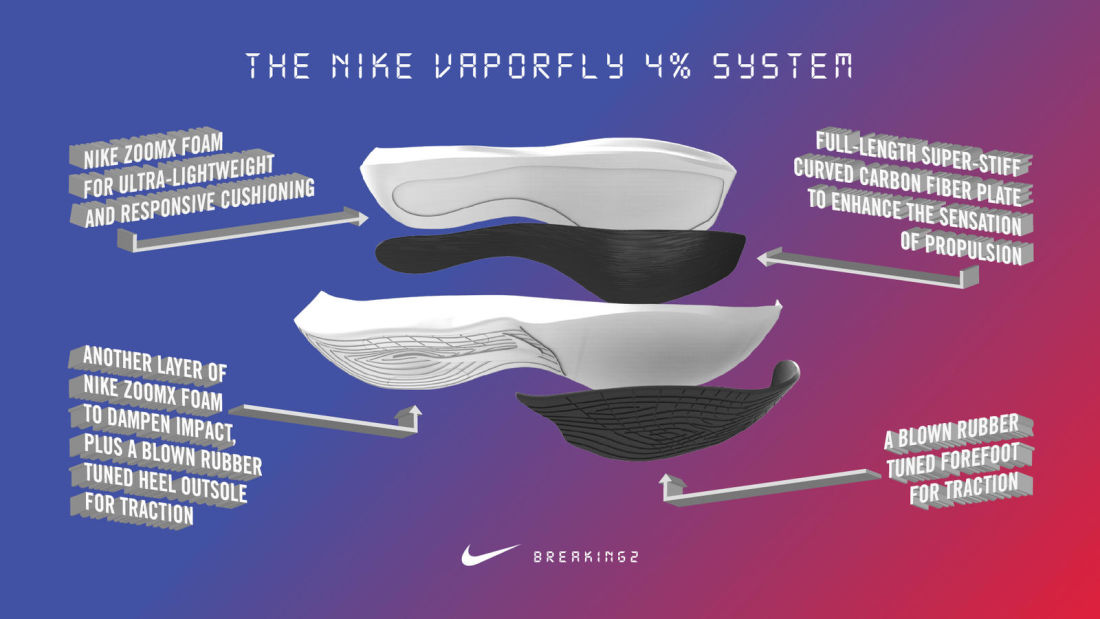 As you probably know, this shoe's claim to fame is its carbon fiber spring plate, which looks much like what I just bought to put in my shoe. But alas, my DIY version does not work like the Vaporfly. To the contrary, rather!
The plate does the job of protecting my foot, astonishingly so. There is no pain at all running with the plate in my sole. But unfortunately it is also a total slog. My shoes feel heavy, unbearably stiff, and clunky. The edges of the plate are sharp and dig into my feet, and the super stiff landing gave me chafing on my soles. Landing on the plate is very jarring (probably one of the reasons for Nike's super cushy foam in the VaporFly). And it also alters my gait quite a bit, making running really awkward.
I am very, very sore and uncomfortable after running with the carbon fiber plates, so I am limiting their use: all easy "runs" are being done on the elliptical. But what about the other runs? What could I accomplish in these crazy shoes?
Middendorf's Manchac 10k:
With warm up and cool down, ten miles for the day. The race itself was hilariously slow, a 6:51 pace, which is close to marathon pace! Ha! I ran 6:38 pace for a half just two weeks prior! But I can't totally blame the shoes. I had also taken off some time, had a bad cold, and was faced with a challenging headwind. One of my teammates, who is about my pace usually, also ran a slow 10k - probably around 6:45 or so. Around her half-marathon pace. And she was in her regular racing flats. The wind gusts were quite hard, and we all struggled. But then, another one of our team ran a PR, so I can't just say that everyone had a bad day!
Easy paced long run:
21+ miles at about 8:00 pace. This was much, much harder than the 10k race of the day before. Covering that distance in these shoes was terribly painful, and I struggled. I felt like I'd been in a car accident for the rest of the day. The slamming, jarring feeling of each step is just the worst! It didn't help that I totally hit the wall. That worries me - we haven't had a lot of really long runs this cycle, and I need that time on my feet.
Regular running:
I've done some easy running with the plate just to test it out, or for the race warm up and cool down - and by far this is the best it felt. Probably the smart thing to do would be to make all my runs easy when using the plate!
Conclusion: I think they're worth it. Spend the money. If you have an actual fracture, you can use the plate in lieu of a boot (with doctor's approval, duh). If you have a stress reaction or another metatarsal injury, you can use the plate to train through it. Will it be just like regular running? Nope, not even close. But it sure beats missing 2 - 4 weeks of training altogether!